A few good men . . . and women
Dr. Salvatore Ruffino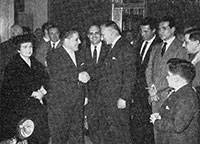 The only reason for the existence of the Triumph Italia was the desire of Dr. Salvatore Ruffino to create a new model for the Triumph line. It was his vision to build a car that would take advantage of the engineering expertise of the British automobile and add the beauty and refinement of Italian design.
Dr. Ruffino had the vision and the contacts necessary to proceed. He needed someone to create a design that would fulfill that vision.
From l to r: Mrs Ruffino, Dr. Ruffino shaking hands with C. L. P. Edmonds of Standard-Triumph, and on his left is Mr. Rodino President of the Italian Radio Sate Company. In front, a young Dario Ruffino (from Standard-Triumph Review, February 24th, 1960). And you can just see an Italia at the bottom left of the photo.

Giovanni Michelotti (1921–1980)
Giovanni Michelotti had started in automobile design at the early age of 18. His talents led him to branch out into his own design studio. More soon . . .

Alfredo Vignale (1913–1969)
Alfredo Vignale had built some of the finest cars in the world. For a time in the early 1950's, his carrozzeria was the favorite of Ferrari. His friendship and belief in Michelotti's abilities led to many fabulous creations. More soon . . .
And some modern day ones . . .
Dario Ruffino
Dario Ruffino is Dr. Ruffino's son and was involved in the project with his father. Dario kindly gave an interview to Jörg von Appen detailing the early days of the venture.
Giuliana Vignale
Alfredo Vignale's grand-niece is an artist in her own right. Giuliana is carrying on the family tradition of creativity. You can view and purchase her automotive paintings at her site: www.vignalemotorart.com
Jörg von Appen
Jörg's interest in the Italia goes back to the mid-nineteen eighties when very little was known about the car. With Jörg's assistance we have been able to piece together the Italia's story. At one time, Jörg owned five Italias. While I assisted him in the purchase of #54 and, later, #198, Jörg put great effort into gathering both printed material and interviews with those involved in the original project. Without his help we would know little about the real history of the Italia.
Adrian C. Sinnott
I purchased my first Italia (#3) in 1982. Like many other Triumph fans, I had seen photos of the second prototype and when the opportunity arose to buy #3, I leapt at it even though the car was in a very tired, if driveable, state. As I actually owned an Italia, the Vintage Triumph Register asked if I would consent to be their consultant for the car. In the days before e-mail, this meant many phone calls and letters both to and from owners, manufacturers and museum's. Even a phone conversation with racing legend Phil Hill, who drove those early 1950's Vignale bodied Ferrari's. With photos and notes shared by, and with, Italia owners throughout the world, I was able to piece together a rough history of the Italia.
In the mid-eighties, I received a call from Jörg asking for help in acquiring an Italia. After introducing him to an owner willing to part with his car, Jörg and I journeyed to West Virginia. With the able assistance of it's former owner, Douglas Chadwick, we towed the car to Port Elizabeth, New Jersey for shipping to Germany. Jörg and I would become good friends and he kindly and enthusiastically shared information as he uncovered it in Europe and I did the same with what became available in America. Together we visited the BMIHT archives at the museum in Gaydon, UK and as I searched through the microfilm, we were able to gain an even more detailed list of cars produced.
I decided to buy a second Italia that had been on the market for a number of years. That car, #311, is almost completed. And what has become of #3? That's a story in itself. Over the last 20 years, I've bought parts when available, rebuilt pieces, and had the chrome re-plated. Now, finally, work has started on restoration of the body.
Leo Ranner
As the Italia consultant for Europe, Leo has been an avid collector of Italias and Italia information. Today, owners in Europe who need help with their cars have no further to go than to contact Leo. Leo is, at present, restoring the second prototype Italia. Be sure to visit the Photo section to see pictures of the 2012 Italia meeting in Lindau, Germany. Leo and his family put together a great weekend for Italia owners.
Tyrone Stoner
As the Italia consultant for the U.S. for the Vintage Triumph Register, Tyrone owns a number of Italias and has a vast collection of Italia material. His assistance is invaluable to present and prospective owners. Tyrone also put together a meeting of Italias in the U.S., as part of a Vintage Triumph Register event.
Paul Harvey
Paul is the newly appointed Italia consultant for the TR Register in the U.K. Paul owns Italia #215, the second "as original" Italia in existence. It and Italia #126 were both held in dealer stock for over twenty years. Visit the Restoration page for more about #215. Paul has great plans for the Italia Register including the newly added Triumph Italia 2000 Facebook page.