Everything you ever wanted to know . . .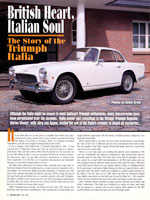 Here is a .pdf of an article I wrote in 1995 for British Car magazine. It is also available by clicking the images below. Some information in the article needs updating and that is listed below.
Click the links to the right to view period and modern articles, advertisements, and brochures. Some modern articles may link to the magazine where they appeared.
The title wasn't mine but the editor left the article itself alone. British Car was an interesting magazine. They were a perfect fit for the article, willing to give it the space necessary. The German photographer, Detlev Krehl, kindly offered the use of the photos to the magazine so neither of us got paid for our efforts. I always warn my students about doing "spec" work (speculative or I'll pay you when it makes millions, i.e. not a chance). But I do say that if they feel strongly about something, it is really their decision to pursue it. That was the case here.
I was looking for an outlet for the information Jörg and I had compiled (with additional help from many owners). I had done some gag cartoons for Road & Track and mentioned the Italia to them. At the time, the Italia was just not a big enough draw for them to allocate space for an article. British Car, on the other hand, saw this as a great addition. I had also arranged with British Car that the Vintage Triumph Register would be allowed to reprint the article in it's entirety in their newsletter. To my knowledge, they never took advantage of the offer.
Updates to the article
We now know of 325 chassis being shipped to Italy. We belive it probable that there were 5 more but to prove this will require another visit to the archives. As you can see in the "Surviving Cars" section, 123 have been found so far.
The "Slope nose" prototype was called a "Triumph Italia" in an article from the July 1959 issue of Esquire magazine. The 1958-1959 edition of Automobile Year called it a "Michelotti designed TR3 to be built by Vignale."
While Alick Dick certainly must have seen and probably driven the Italia prototype and #1, the car he was mentioned as driving was the earlier black and white Michelotti designed TR3 show car.
Parts can still be an issue but many pieces have been replicated or a donor car found. Check the "Parts" page.
As can be seen on Italia #126, there was a fourth arrangement of the boot handle. The combination of the early handle and the later light mounted on the body around the trunk lock. See the Restoration page for a list of production changes.