Audrey Hepburn and the Triumph Italia . . . Talk about style!
Italia owner Scott Marquis came across a photo of Audrey Hepburn and Mel Ferrer next to an Italia on a blog and shared it with us. We did a little detective work and were able to find that it was just one image from a photo shoot in Rome in 1961. We tracked down the name of the photographer and where his archives are now stored. Although the rights to use the photos on a web site are expensive for a non-profit group, we couldn't resist purchasing the rights to at least one. There are over thirty available and we hope to add more in the future . . . with your help.
The Photographer:
The photographer was Pierluigi Praturlon and the shoot took place at the Piazza Guglielmo Marconi in Rome. Pierluigi was famous in Italy and amongst the film community having worked on La Dolce Vita, Ben Hur, the Pink Panther and many more. He is credited with suggesting that Anita Ekbert go into the Trevi Fountain. He was also known for his portraits of Marcello Mastroianni, Claudia Cardinale, Anita Ekberg, Peter Sellers and Raquel Welch. He spent many years as Sophia Loren's official photographer.
The Italia: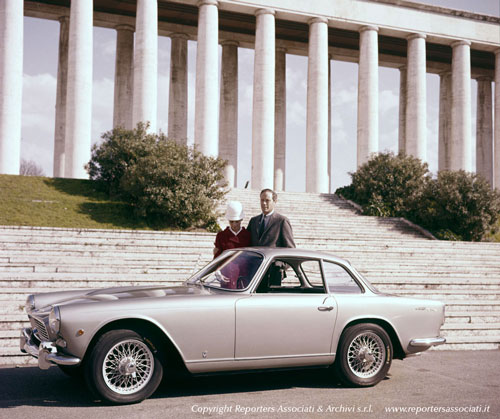 Unfortunately, there is not too much we know about this particular Italia. While the other cars in the photo shoot had number plates, the Italia did not. We can only guess it was taken from dealer stock specifically for the shoot. It's a silver car with a, possibly, dark blue interior. The mirror is the later style while the seats are the early style which, at a guess, puts it somewhere between about #101 and #133. It also appears to have the Altissimo style rear taillights with the amber section on top.
The Photo Shoot:
We are not sure of the purpose of the photo shoot. We assume it may have been a promotion for the Italian auto industry for the Italian Exposition. To have both Audrey Hepburn and, her then husband and fellow actor, Mel Ferrer appear with the cars would have required some very special arrangements.
The Japanese connection:
During our search for the photos, we came across an article in a Japanese 'movie star' fan magazine. Some of the photos from the shoot were used to illustrate the article.
Those other cars:
Also in the shoot were a Ferrari, a Maserati 3500 and an Alfa Romeo 2600. The Ferrari, Maserati and Italia seem to take center stage. One of the photos was used in a Vanity Fair article in May 2013 on Audrey Hepburn's life in Rome. The photo was colorized for the article with the Italia colored green. The B&W original photo appears in the book, Audrey in Rome, by her son, Luca Dotti.