Hey, want to buy an Italia . . .
The majority of ads we have seen have been in Italian publications. Recently, we came across one in the 1961 Times Grand Prix Riverside Race program so there are probably more out there yet to be found.
Quattroroute
This is a later ad. Originally the cars were handled by Ruffino's company "CESAC S.p.A." The name was changed towards the end of production to "Ruffino S.p.A." Click the image for a larger view.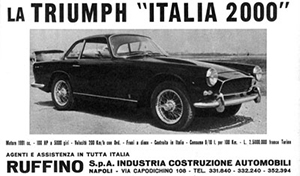 1961 Times Grand Prix Riverside Race Program
This ad is for the Inter National Trading Co. They started offering the Italia in late 1961. As far as we know, Stutz Plaisted was still the official importer. Inter National may have signed on as a dealer. They are mentioned in the December 1961 issue of Sports Car Graphic and that article mentions the $3995 price as a drop of over $1000. Options are listed and the article makes it sound as if they are included as standard. These cars also feature the outside fuel filler which would mean cars starting somewhere around #228-234. Inter National's LA address is now a "76" gasoline station.