Hey, want to buy an Italia . . .
See below for two letters from Dr. Salvatore Ruffino to Mr. Herbert Platt of Pittsburgh, PA. These latest additions to our hunt for original material were kindly supplied by LeRoy Landers, owner of Italia #58.
The majority of ads we have seen have been in Italian publications. Recently, we came across one in the 1961 Times Grand Prix Riverside Race program so there are probably more out there yet to be found.
CESAC S.p.A.
To letters from Dr. Ruffino's company, "CESAC S.p.A." to prospective owner, Mr. Herbert Platt, answering his query on the Italia. Many thanks to LeRoy Landers, owner of Italia #58, for providing us with copies of these important glimpses into the history of the Italia. The letters confirm color choices, including the option of four different metallic colors (silver and three shades of blue), leather trim and overdrive. We now know just how much these cost, too! $50 for metallic paint (roughly $435 in today's value), $100 for leather ($870) and shipping to America for $150 ($1300)! And, of course, $3800 for the car itself (equal to $33,214.33 today). Italia #227 owner, Scott Marquis, did some additional digging and has determined that, unfortunately, Mr. Platt didn't pursue a purchase any further. Click the images for a larger view.
Quattroroute
This is a later ad. Originally the cars were handled by Ruffino's company "CESAC S.p.A." The name was changed towards the end of production to "Ruffino S.p.A." Click the image for a larger view.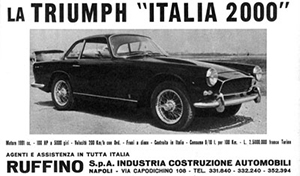 Grand Hotel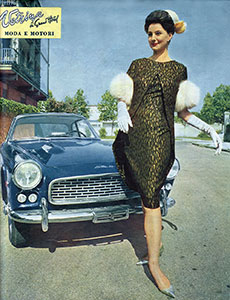 1961 Times Grand Prix Riverside Race Program
This ad is for the Inter National Trading Co. They started offering the Italia in late 1961. As far as we know, Stutz Plaisted was still the official importer. Inter National may have signed on as a dealer. They are mentioned in the December 1961 issue of Sports Car Graphic and that article mentions the $3995 price as a drop of over $1000. Options are listed and the article makes it sound as if they are included as standard. These cars also feature the outside fuel filler which would mean cars starting somewhere around #228-234. Inter National's LA address is now a "76" gasoline station.